All workshops will be translated into German / French.
Overnight stay
in sports halls (bring sleeping bag, sleeping mat)
Apartment (10 minutes walk, 2-3 people, Tel: +49 7851/3261)
http://www.guesthouse329.de (Tel: +49 151-44322180, please provide "Capoeira meeting, friends of Antonio" for reference)
Getting there
By DB via Karlsruhe-Appenweier-Kehl, Freiburg- Offenburg-Kehl,
With the SNCF Mulhouse-Strasbourg-Kehl, Paris-Strasbourg-Kehl
A tram runs from Strasbourg to Kehl!
By car in Germany via A5 exit 54-Appenweier, then B28 to Kehl
By car in France via A35/A4 to E52 via Europabrücke to Kehl
By plane (e.g. Ryanair) Airport – Karlsruhe/Baden
By plane (e.g. Volotea) Airport – Strasbourg
Addresses/ Map
Sports hall "Niedereich-Halle", Rustfeldstr. 12, 77694 Kehl, Germany
Arrival on friday, registration, children's training, Batisado, dance classes, percussion classes, Formatura, party, dinner, breakfast
Sports hall of "Einstein-Gymnasium", Vogesenallee 24, 77694 Kehl, Germany
Capoeira training, accomodation
Passerelle, pedestrian bridge, Garden of the two Banks, Kehl – Strasbourg
Rodas, Maracatu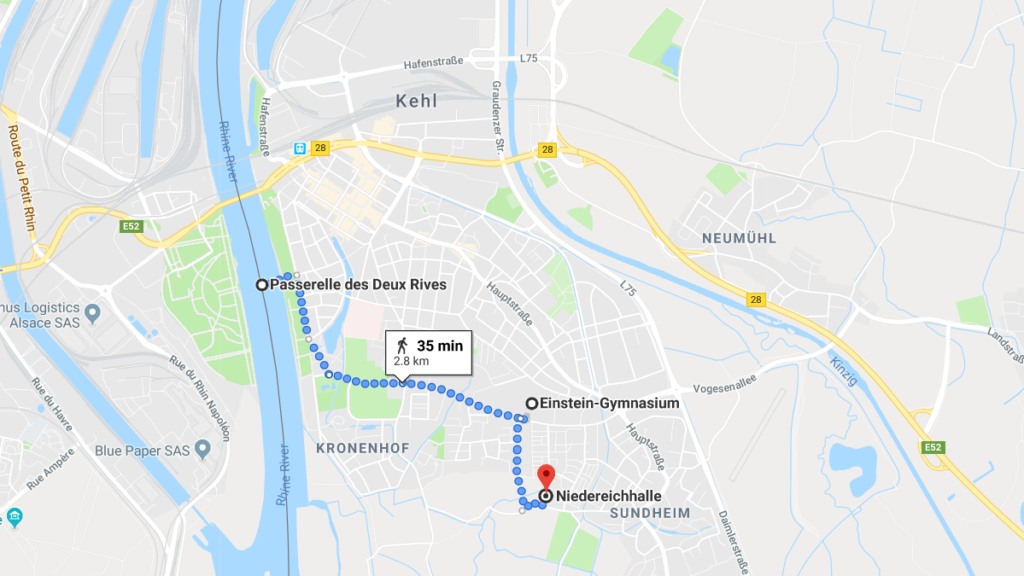 Payment system
We will work again this year with a cashless payment system.
For this, vouchers worth 20, – € or 50, – € can be purchased directly with the registration with which everything around the workshop can be paid (food, drink, T-shirts, pants, instruments etc.)
Remaining amounts will of course be paid out at the end and new vouchers can also be purchased at any time if required.
We only ask you to consider that the next bank is a few meters away and therefore it is best to bring enough cash to sign up.